Fitzroy Hall
Stay in Beautiful Prince Edward Island
Fitzroy Hall
Historic Inn and Bed & Breakfast
Fitzroy Hall
Gorgeous Downtown Charlottetown
Fitzroy Hall
Historic Inn and Bed & Breakfast
Fitzroy Hall
Historic Inn and Bed & Breakfast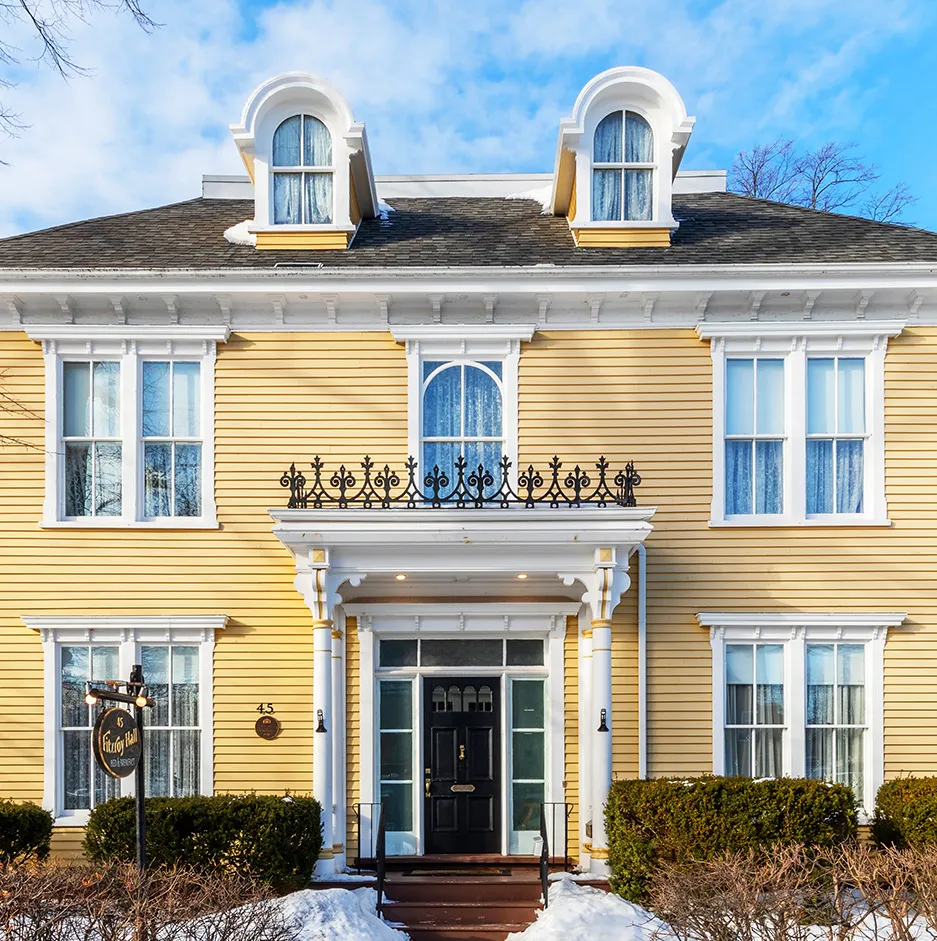 A beautiful heritage home located on a quiet street in the heart of historic downtown Charlottetown.
Guaranteed lowest rates by booking directly with us!
Minimum two nights booking. Save 15% for three or more nights, and 20% for five or more nights. Breakfast Inn rates from $199 to $400.
Call us to book now: 1-866-627-9766 (local: 902-368-2077) or email us at fitzroyhall@pei.sympatico.ca
About Fitzroy Hall
Family owned and operated since 1993.
Offering spacious rooms with historically preserved charm, we at Fitzroy Hall provide all the modern comforts to make your stay enjoyable while cherishing the past so that you can experience Historic Charlottetown authentically.
With eight air-conditioned bedrooms, each featuring their own private bath and four suites hosting Jacuzzis, we have your comfort constantly in mind. Touches of the past can be found everywhere through our home: in the wood floors, antique furnishings, period décor and lovely fireplaces.
Guests are welcome in one of our parlours, outside in the garden, or to use the complimentary kitchenette with a microwave and mini-fridge for your needs.
Our quiet location in the heart of historic downtown Charlottetown is within walking distance to all of the best our city has to offer: the Confederation Centre of the Arts, Province House, City Hall, the Charlottetown waterfront, Victoria Park, Fanningbank, the Government House, and historic Beaconsfield.
You're also only steps away from award-winning dining, eclectic artisan shops, and unique experiences that are largely a part of Charlottetown's culture. Located only a short drive from PEI National Parks with pristine beaches, the Anne of Green Gables House, Avonlea Village in Cavendish, lovely golf courses, and famous hiking, biking, and walking trails.
Fitzroy Hall is your home away from home on Prince Edward Island.
The History of Fitzroy Hall
Fitzroy Hall, our stately Victorian home, was built in 1872 by Thomas Essery Esq. for Alexander Brown Esq., a local banker. For a time after it was completed, one of the rooms, now the Alexander Brown Suite, was used as a bank. Alexander Brown's wife was Georgina Coles, a daughter of the Honorable George Coles, a Father of Confederation and Premier of Prince Edward Island when both Responsible Government and the Free School Act came to be. This prominent figure in Island history and the history of Confederation often lived at Fitzroy Hall and spent the last years of his life here, amongst his daughter and family.
In 1911, the property and home were sold to Samuel A. MacDonald, a local merchant. The MacDonald family maintained the home until April 1993 when the Doucette family acquired the home.
Becoming proud and caring owners, Helen and Reginald took on the responsibility of carefully preserving the beauty of the past and history behind this historic home.